Lora received a B.A. in French from Newcomb College of Tulane University, New Orleans, LA (1983). Her career took her into the corporate world as an Operations and Human Resources Executive until 2002. Ceramics was always a strong interest in high school, college and beyond. Returning to clay after 17 years, Lora took classes at Callanwolde Fine Arts Center, where she honed her pottery skills. She was accepted to the two-year pottery assistantship at Callanwolde (2006-2008). Since 2008 Lora has maintained her production studio as well as taught at Callanwolde and various art centers in the Atlanta area. Lora also holds frequent workshops nationwide, where she teaches wheel techniques and her signature style of pushing the clay. Lora creates heirloom quality porcelain artwork, fired in her soda kiln in Blue Ridge, GA.
My world has always been surrounded by pottery. My mother, Lora Frances Webster (1931 – 1999), was an artist, a crafts person, and a collector and user of pottery. We had a home full of lovely items. As a child she encouraged us to touch and use the pieces that she collected. She was an avid patron of The Signature Shop, an Atlanta gallery representing fine craft since the late 60's. Surrounded unique utilitarian and sculptural items by Cynthia Bringle, Charles Counts, Paolo Soleri - pitchers, wine goblets, bowls, colanders, candle holders, vases, Wise Men and bells – the norm was stoked with creativity. The table might be set with china plates and Bringle stoneware goblets…why not? Visually and artistically this influenced me. She instilled her creative spirit, through music, sewing, needlepoint and other crafts.
When I came back to clay in 2002, I took an intermediate pottery on the wheel class at Callanwolde Fine Arts Center with the Director of Pottery, Glenn Dair. That was the beginning of an enriching interaction that continues to this day. Through my 4 years of classes, a 2 year assistantship, and 10 years of teaching at Callanwolde, Glenn's mentorship and the Callanwolde Community have been my Clay Home. Callanwolde has been the place of discovery for my texture, artistic voice, firing methods, and of myself as a teacher. Glenn's recent retirement after 36 years at Callanwolde has brought us full circle as my new studio mate. I am looking forward to collaboration and inspiration in this new chapter at my studio on Zonolite Place.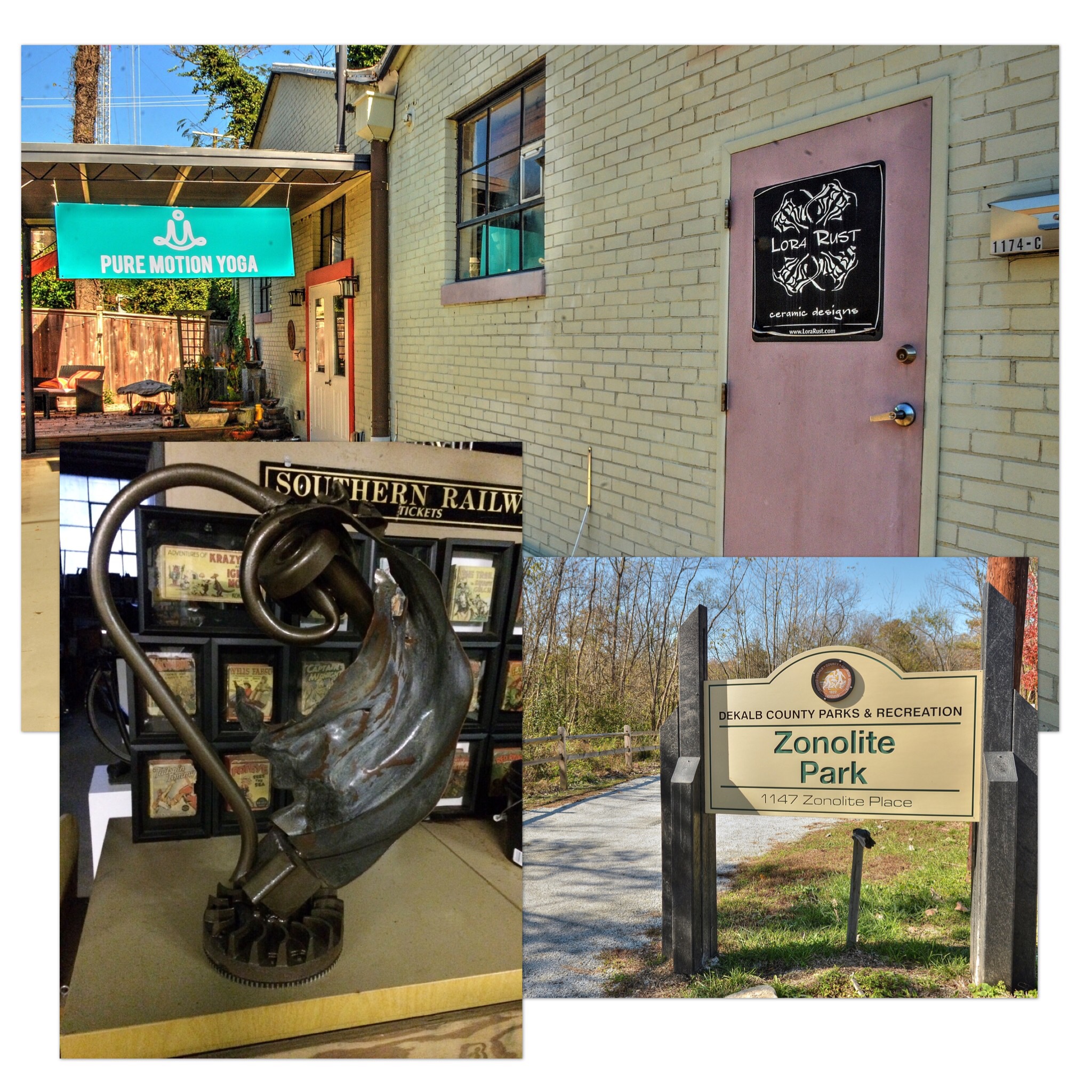 Having my own studio has been an amazing honor. My current studio is located off Zonolite Road near Emory University-Morningside-Virginia Highland area of in town Atlanta, which is conveniently very close to my home. I make all my work here and get it through the bisque stage and glazed before carefully transporting the pieces to my soda kiln in Blue Ridge, GA. My landlord and building neighbor is sculptor, Steve Steinman. I have the pleasure of watching his sculptures of fabulous shapes and movement from recycled metals come to life as I walk through the building. Our building is located in the Floataway Community next to Zonolite Park, a nature park along the South Fork of Peachtree Creek…a wonderful bonus. And there is the yoga studio right.next.door. A great address.
The support of my amazing family keeps me going. My husband, Michael, grounds me and gives me the confidence to keep making. Without him I would not have found this new chapter in my working life. When I "retired" from the corporate world in 2001, my main job was suddenly "stay at home mom" to our 2 busy daughters, who were of elementary and middle school age at the time, both competitive gymnasts. It was quite a switch from conference room to carpool and PTA. But it was that pause in my life that brought me back to clay with the encouragement of Michael. Through the years they have all had to help with pricing, choosing photographs, social media and technical help…all in all my biggest cheerleaders. With first apartments and a wedding coming up, I will have the opportunity to continue to populate their world with pottery.