As a ceramic artist, my goal is to bring a touch of artistry and elegance anywhere in the home. Working in porcelain, my stylized technique is a unique process of pushing the surface of the clay with my personally designed tools, creating lush and fluid surfaces that beg to be touched. Designs and patterns found in Gothic Architecture mixed with the fluidity of Art Nouveau are strong influences for my patterns. Inspiration from textile and fashion design provides movement to the texture on the form. I fire my work in my soda kiln in Blue Ridge, GA. Sodium vapors glaze the exterior of each vessel, interacting and uniquely highlighting the form and surface.
My mother taught me to sew, quilt, crochet and knit. These modes of creativity made sense to me because they all utilized a pattern or a grid. I became fairly deft at needlepoint, and actually gained enough proficiency to be able to translate designs to canvas, along the grid. However, I never truly enjoyed the procedural detail required for completion. When I was required to take art in high school, I took ceramics. Having grown up with so much pottery in our house combined with my discomfort with 2-D art, this seemed an obvious choice. For me, forming pots on the wheel created a basis from which to start, a 3-dimensional grid. My designs for my pots all start with me dividing the pot into a grid. I don't get too detailed, but I use the grid as a guideline. I use the contours of my tools to define the patterns and fill in the grid.
Choirgirl to Fashionista and everything in between
I spent many years from elementary school through high school as a choirgirl. Some of my patterns definitely echo those years spent staring at the ceiling spines of gothic style churches and their lovely stone and wood carvings. As my patterns began to develop more, the resulting designs took on a very fluid and lush look, reminiscent of Art Nouveau. Although I was not really aware of Art Nouveau as a style, I realized I was drawn to the forms and lines from that period.

I am fascinated and inspired by the images, styles and patterns of textiles and fashion design. I adore the folds and manipulation of the patterns of luscious fabric or texture draped on the human form. When translating the images, designs and ideas in my mind onto the wheel-thrown form I seek a lot of inspiration from images found in catalogs, design and fashion magazines - an endless supply of examples of how a pattern breaks or folds on the form.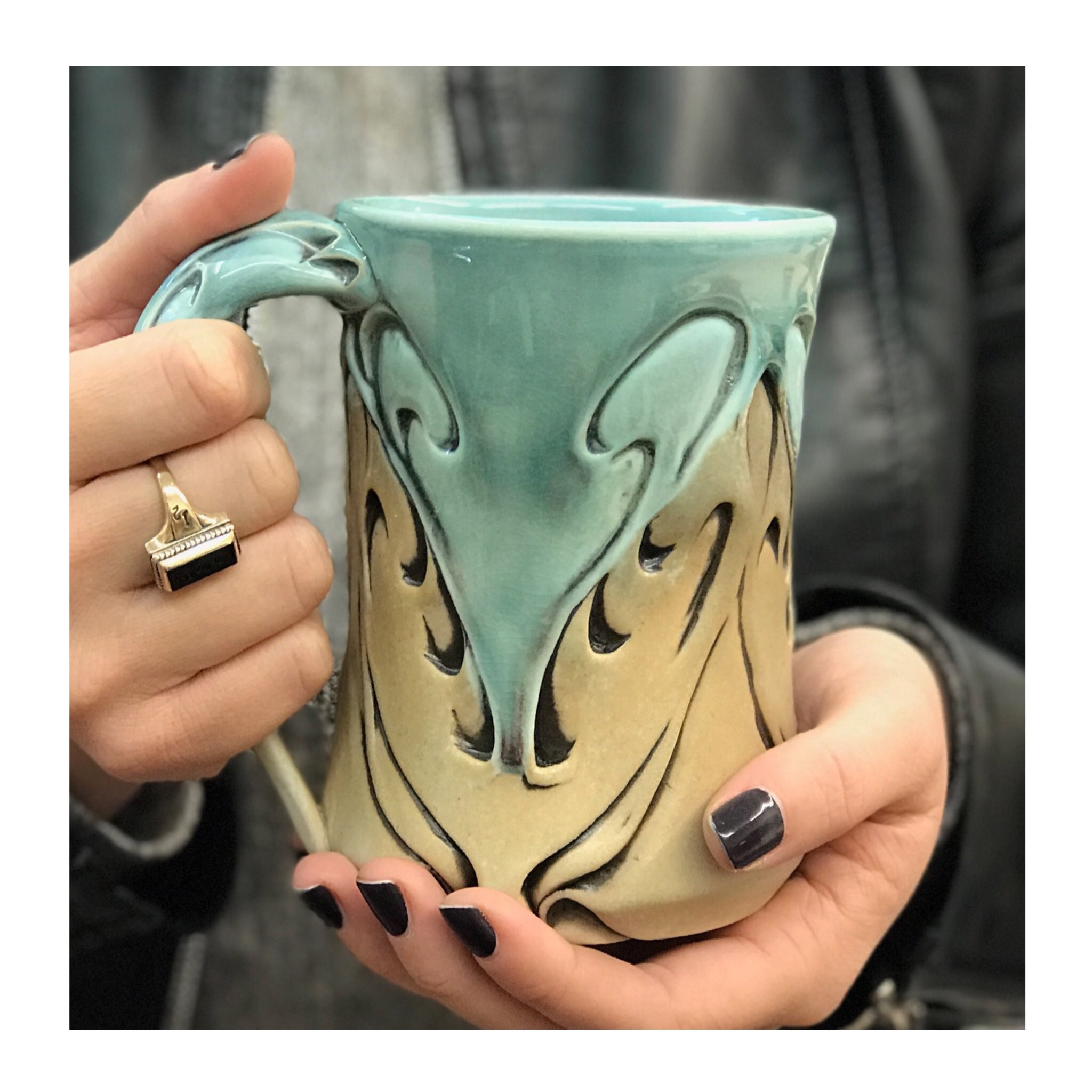 I want there to be a visual experience for the piece, but also important for me is for my pieces to have the added enjoyment of touch. They are functional pieces, after all, and are meant to be handled. The lush and fluid surfaces beg to be touched. Coming back to the pleasure I knew when I was young of having special pieces in our home for everyday use, my pieces should bring the same kind of joy to the user. It certainly brings me great joy to make them.